As I was up in Shropshire last weekend visiting friends and meeting their babies (and consuming large amounts of cake, pizza and crisps), I figured I may as well stick my walking boots in the car and do something productive on the Sunday.
I decided on a short walk along Stiperstones. Starting from The Bog visitor centre car park, walking to meet the Shropshire Way and following that along the ridge past the trig point, then another big obvious path back again. Just over 5 miles in total.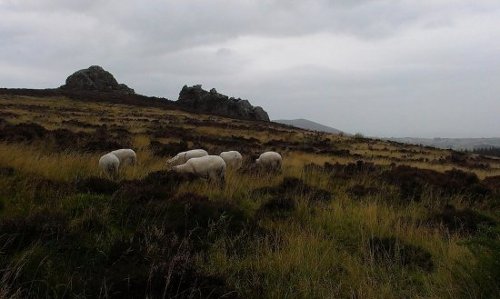 Nipstone Rock, and some sheep
It rained. Also it was quite windy, but that's to be expected walking along a ridge! I saw a grouse near the trigpoint - they make a very strange noise...
Only took a few photos, using my phone, because I didn't want to stop and dig my proper camera out of my bag in the rain (should have packed the waterproof one!). Didn't check the map much either for similar reasons, which might partly explain why it took half a mile to realise I'd turned south instead of north right at the start. ahem.
But we'll pretend that little detour was part of the original plan - without it I wouldn't have seen Nipstone rock, pictured above, so not all bad I guess!