Might as well admit it - I've turned into a proper cyclist. Road bike, lycra, jerseys with pockets on the back.. the full whack (well, nearly - still haven't braved clipless pedals). I've also developed an even greater hatred of potholes, and occasional strange desires to try and ride up steep hills.
Not that this is a bad thing, of course. It's doing wonders for my general fitness, and unlike all my other hobbies I don't need to rely on other people, or drive for hours to get to a starting point. Out the front door and on the bike

It's a different way to appreciate the local area too.
On Saturday I did my longest ride so far - just under 73km! I'd vaguely plotted a 60km ish route, including options to cut it short in case I found it too hot (lovely weather!!!). Previous longest ride was about 45km, so quite an increase.
This is the Severn at Arlingham, with Newnham on the far bank. Stop #1 - for a drink, cereal bar and obligatory 'bike leaning on something' photo.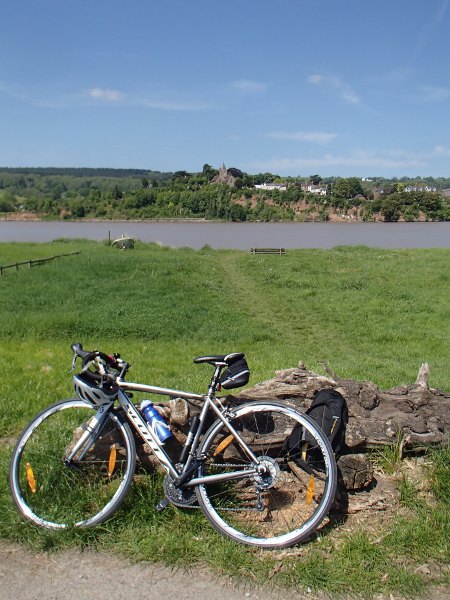 Stop #2 was the canal bridge at Frampton, because some boats were going though. Stop #3 was in Stonehouse somewhere, to eat my sandwich and buy more water from a conveniently placed Co-op. Did I mention it was a hot day!
Then back home via Haresfield and Upton St Leonards. If I'd had more time/been feeling in need of more hills I might have come back through Edge or Painswick, but that will have to wait for another time.
Special thanks go to the passenger in a car that overtook me far too closely, for "politely" suggesting that I ride on the pavement instead of the road. Yes, what a great idea - and whilst the bit in question was actually cycle lane, it was also a horrible surface and had several cars parked on it. So he can stick with my equally "polite" response of sticking two fingers up. One cyclist going about 30kmph on a wide empty road is hardly a huge problem!