I bought a new map recently - the Cycling Guides map of 'leisure routes' in the Forest of Dean. Featuring the family trail (which is signposted anyway) but also two other routes with full directions, as well as highlighting lots of other bike friendly shortcuts, links and general forest tracks. Oh, and various pubs, car parks and museums.
Apparently it's tearproof and waterproof, but without feeling at all plasticy. I haven't had to test this out yet, as the weather has been lovely! (and let's be honest, I'm unlikely to be out on the bike if it's raining and manky)
Last Sunday Abi and I set off from Cannop following the blue "Forest Explorer" route. Well, most of it - we chopped a few bits out, coming back via the 'steep' (well, not really) bit of the Family Trail. 21km total.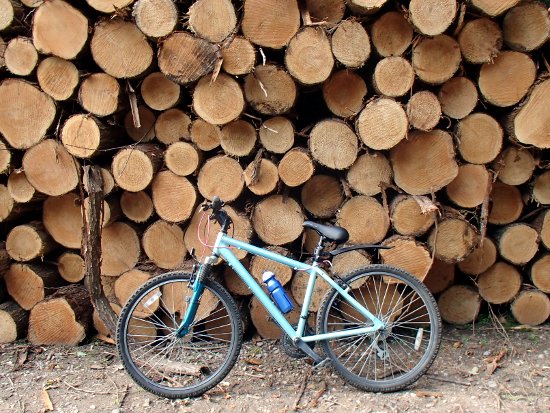 do not climb on the logs
On our return we saw some wild boar wandering around the car park. Not the strangest animal encounter of the day though - earlier we'd bumped into some people taking llamas for a walk.... as you do!
Yesterday I headed out again - this time just for the family trail. It's been a while since I last rode it, and at some point a series of "fun stops" have appeared. Little diversions from the main path to do some mtb skills, as well as a skills loop near pedalabikeaway.
Not many photos as I didn't stop much, but the leaves are starting to look very pretty: