Top comment from friends/family on hearing we went to Barcelona: "Did you get pickpocketed?"
No!
And now that we've got that important question out of the way, here's a vague summary of what did happen:
Sagrada Familia and other Gaudí stuff
I've seen plenty of photos of the exterior of the Sagrada Familia, and yet I was still surprised that it managed to be even uglier in real life. The nativity facade features carvings on top of carvings on top of carvings. I believe this side was 'finished' before Gaudí got squashed by a tram, but I can't help wondering how much more, well, more it might have been if he'd lived longer.
The passion facade is a lot less bonkers (and certainly has nowhere near as much carved shit), but still not exactly nice to look at - it's very stark and pointy and looks really mean.
The inside, on the other hand... wow. It's so colourful! And not much in-your-face religious imagery, which is a very refreshing change from all the other Spanish cathedrals I've visited.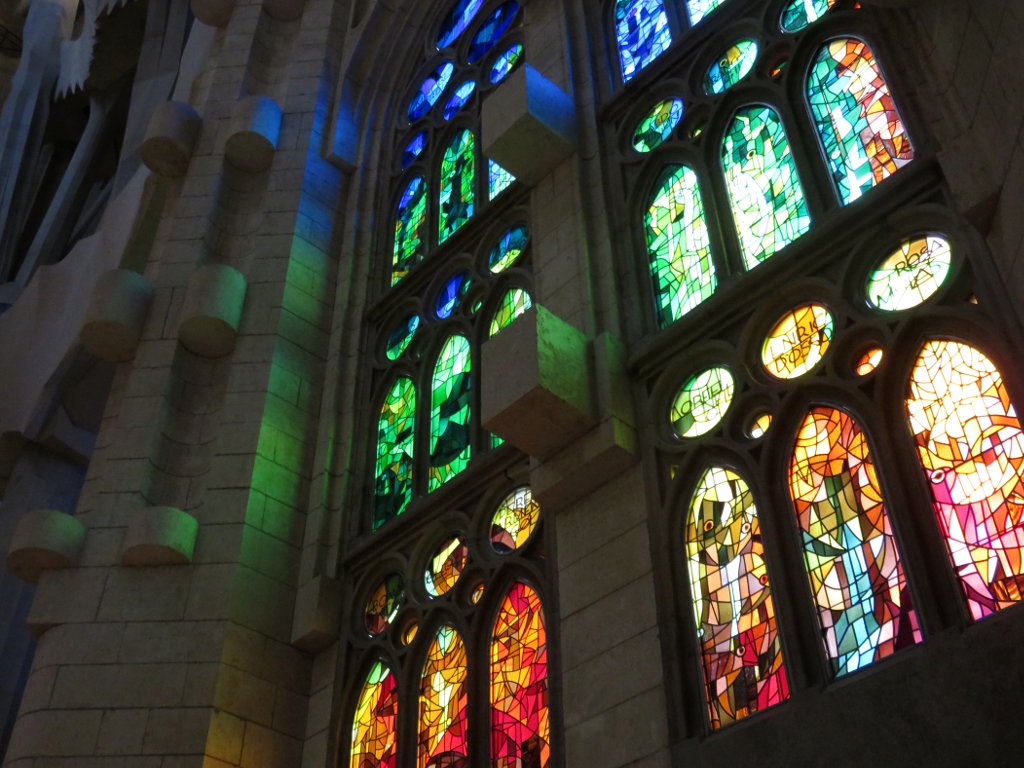 mmm rainbowy
One side's windows are predominately reds and yellows, while the opposite is blues and greens. With the light shining through it's pretty much one big glowing abstract rainbow. I like rainbows.
[Bonus points go to Jon for somehow putting his phone camera in black and white mode while taking photos of the stained glass!]
We went for a tower tour of the nativity facade, which involved a lot of stairs, general confusion of which way you're supposed to go, and some close ups of the (ugly) 'bowls of fruit' at the top of some of the (many) towers.
There are plenty of other Gaudí designed buildings in Barcelona that we didn't bother visiting, but we did cough up €10 to go around the monument zone in Park Güell. You do get a nice view over the city, but although it was exactly what I was expecting, I generally found it a bit underwhelming.
A large case of "pots and kettles" here, but there were soooo many people just taking photos - my favourite being a lady who was very visibly tutting and rolling her eyes whenever someone dared to walk in the background of "her" personal instagram photoshoot. Sorry, but that's what happens when you decide to pose on a busy footpath at a popular tourist site!!
Las Ramblas
A long, tree lined, mostly pedestrianised street, full of people and market stalls selling crappy souvenirs. Redeeming features include La Boqueria market (best patatas bravas we had all week!) and the Erotica museum, which is a proper informative museum and not just something to giggle at.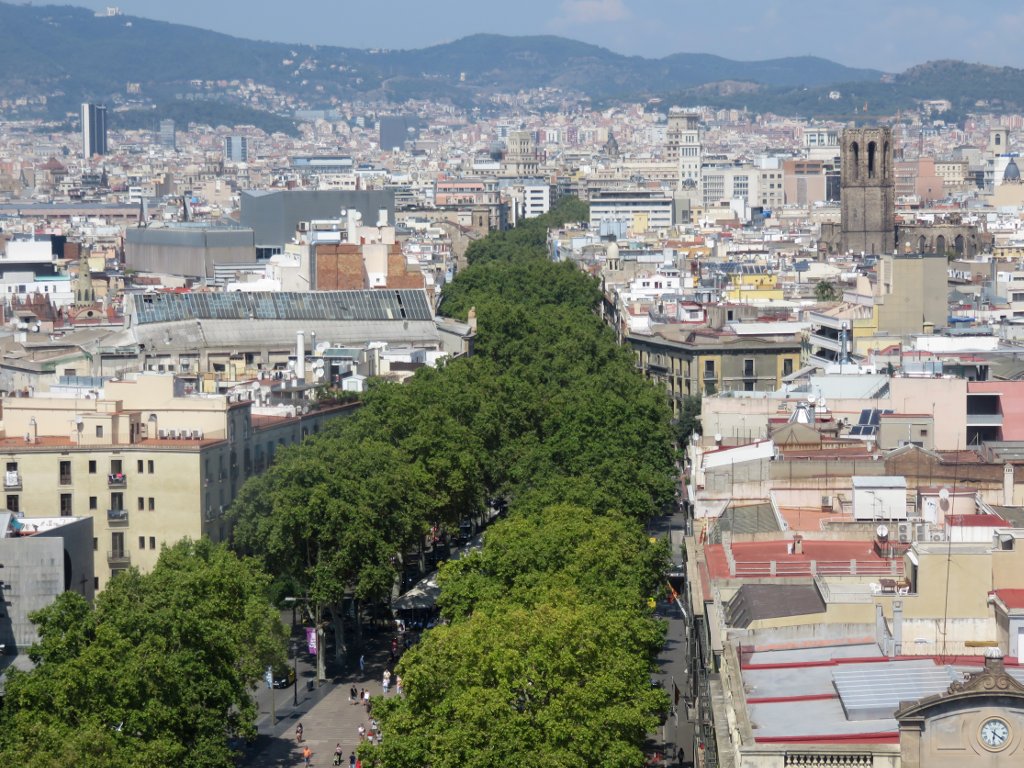 a river of green - originally a stream/drain
You get a good view of Las Ramblas (and a lot more of Barcelona) from the observation deck of the Colombus Tower - and for a couple of euros extra on your ticket price you can also enjoy a nice glass of wine. Yum.
Tapas/Vermouth/Wine
Speaking of wine... are you even in Spain if you're not constantly snacking every time you have a drink? We happily carried on where we left off in Andalusia last year, but with the additional discovery of vermouth - a very refreshing fortified wine aperitif.
One evening we met up with Iain and Sandy for what turned into a bit of a 'tapas crawl' of three or four (I forget...) different bars. Turns out if you've spent two weeks cycling to get to Barcelona, rather than a couple of hours on a budget airline like we did, then there's always a very obvious answer to 'should we order some more food?'.
Bike tour
We spent most of our first day in Barcelona just wandering around the Gothic Quarter, which is all very well but we soon realised we wanted to find out more about what we were looking at. I'd been eyeing up bike tours before we travelled, and chose Steel Donkeys because they had really good reviews, and stuck to small group sizes. We were not disappointed!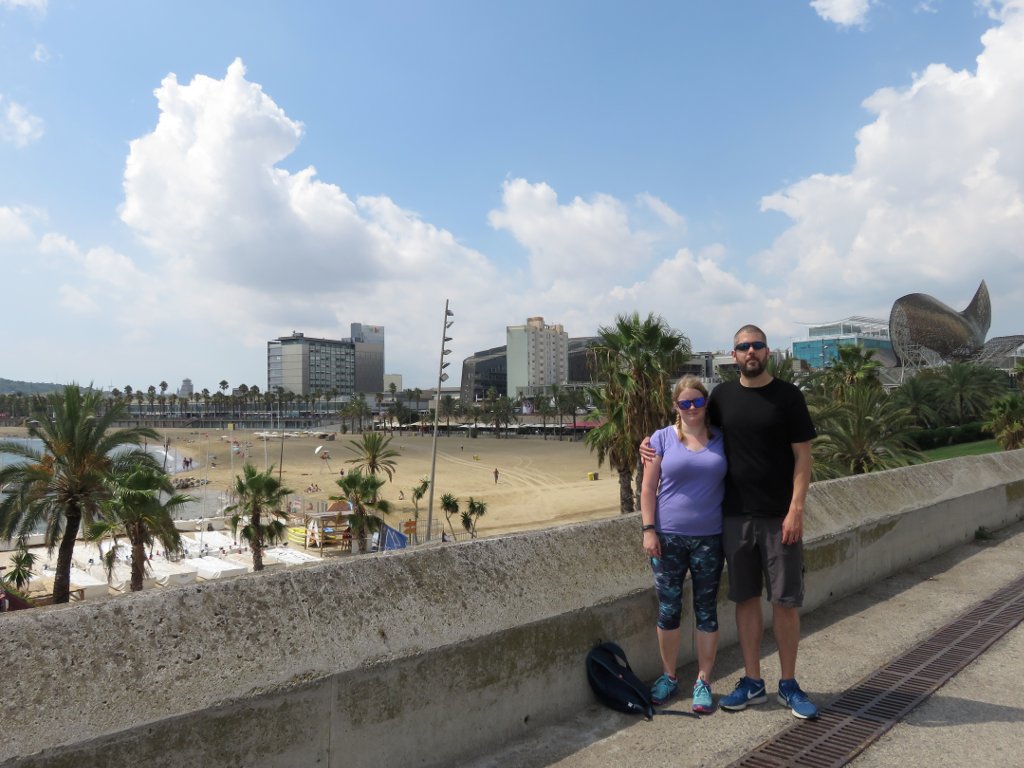 on the seafront
Apparently they vary the tour depending on the day/group. Ours covered about 20km, starting off in the city centre and stopping at lots of places, including the Arc de Triomf, Parc de la Cuitadella, a coffee break in Poble Nou, Parc de Diagonal Mar then heading out to Port Fòrum and back via cycle paths on the sea front.
At no point were we cycling in horrendous traffic, and it was such a good way to see more of the city. Being abroad, the brakes were the 'wrong' way around on the hire bikes which I'm going to pretend I got used to rather than just using both at the same time (it's fine, we weren't going fast at any point!). The bike also had a wide padded saddle and stupid shaped handlebars, but that's just me nitpicking

The Beach
We visited the beach a few times, for swimming/sunbathing and also to do some stand up paddleboarding.
My first time SUPing on the sea - and even with basically no waves right near the shore it's a lot different to on flat water! Also Jon's first time ever on a paddleboard. We both fell in a lot. Unfortunately/luckily, there is no photographic evidence of any of this

Also near the seafront is the Museum of the History of Calalonia which kept us busy for a few hours. Lots of information about Catalan Independence, as you might imagine, but also lots about the general history of the whole area.
Montjuïc
The castle was was... ok. It's not long since we went to the rather excellent Fort Rinella in Malta, and as a defensive fort this one didn't come anywhere close in comparison. But we did get to go on the funicular railway and cable car to get up there, so that's a couple of extra ticks in the 'modes of transport' list...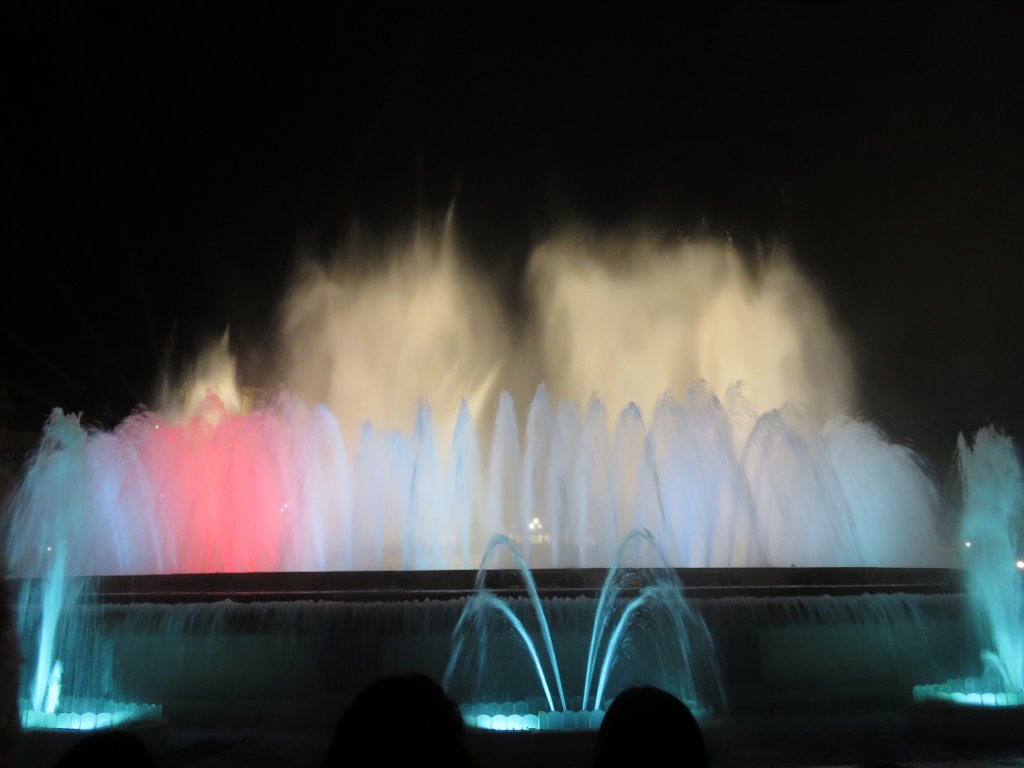 In the evenings Montjuïc has music and light shows at the magic fountain. This was fun! "like fireworks but quieter" - and great if you like taking longer exposure photos of moving water.