An extra day off work for my birthday seemed like a good excuse for a long weekend away. In fact, I insisted on it! After some debate, we settled on Malta for a mix of history, culture and sunshine. I've been to Malta before, in 2013, but Jon hadn't.
Thursday
Six thirty am flight. Nnnggghhh... We landed at about 11, dropped our bags off at the hotel in Sliema, and hopped on a bus to Mdina. Wandered around the walled city (which doesn't take long!) and shared a very tasty Maltese platter for lunch. Fresh bread, crackers, sheep's cheese, olives, sun-dried tomatoes, etc, with a glass of wine each. Yum.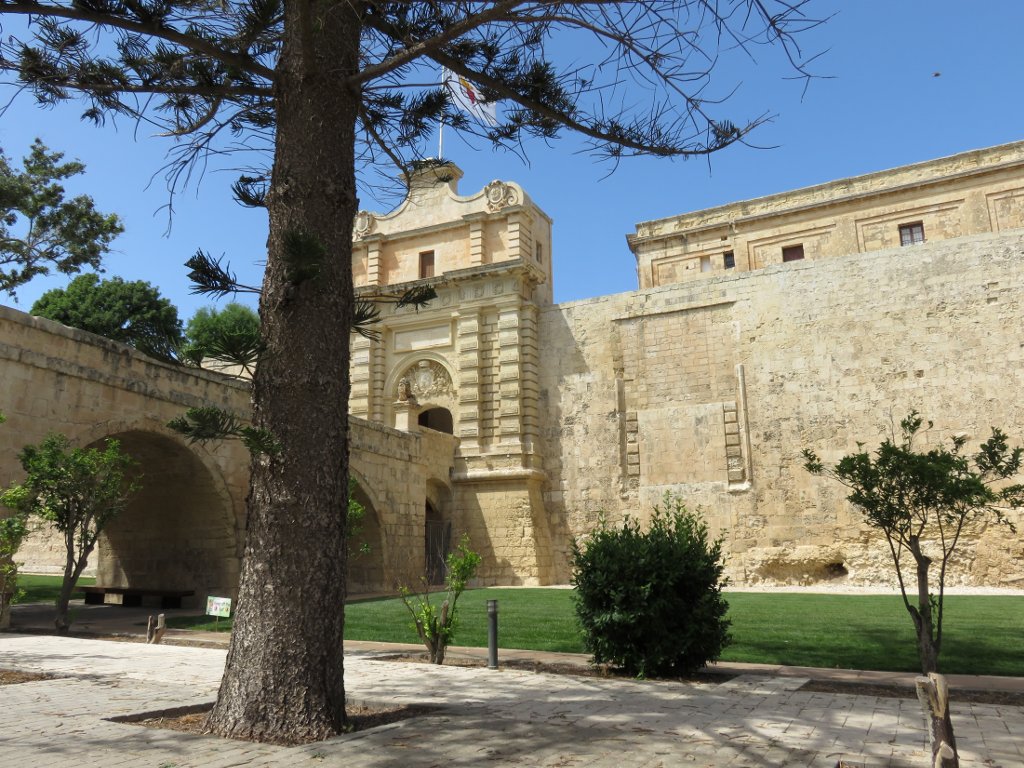 Mdina gate, with bricked up medieval gate also visible.
No idea why I didn't move slightly to the right to get a better photo, hmm. I blame the heat.
Suitably refreshed, we visited the dungeons then left the walled city to see St Paul's catacombs in Rabat. I have to admit I got a bit bored of catacombs fairly quickly - there's a lot of them, and they're all very similar...
Friday
Started the day bright and early with a 2hr segway tour of Valletta. Including holding up the traffic on some of the very narrow and steep streets. Near the end of our tour I discovered that it is possible to fall off a Segway while travelling along a flat pavement. Oops. No harm done though - just a grazed elbow, assorted bruises on both sides of both legs (??) and a bit of damaged pride.
We watched the noon cannon firing from Upper Barrakka gardens, then got the free minibus transport to Fort Rinella. This was good for a couple of reasons: the fort is a bit out of the way, and also Maltese buses have a tendency to be somewhat crowded and chaotic.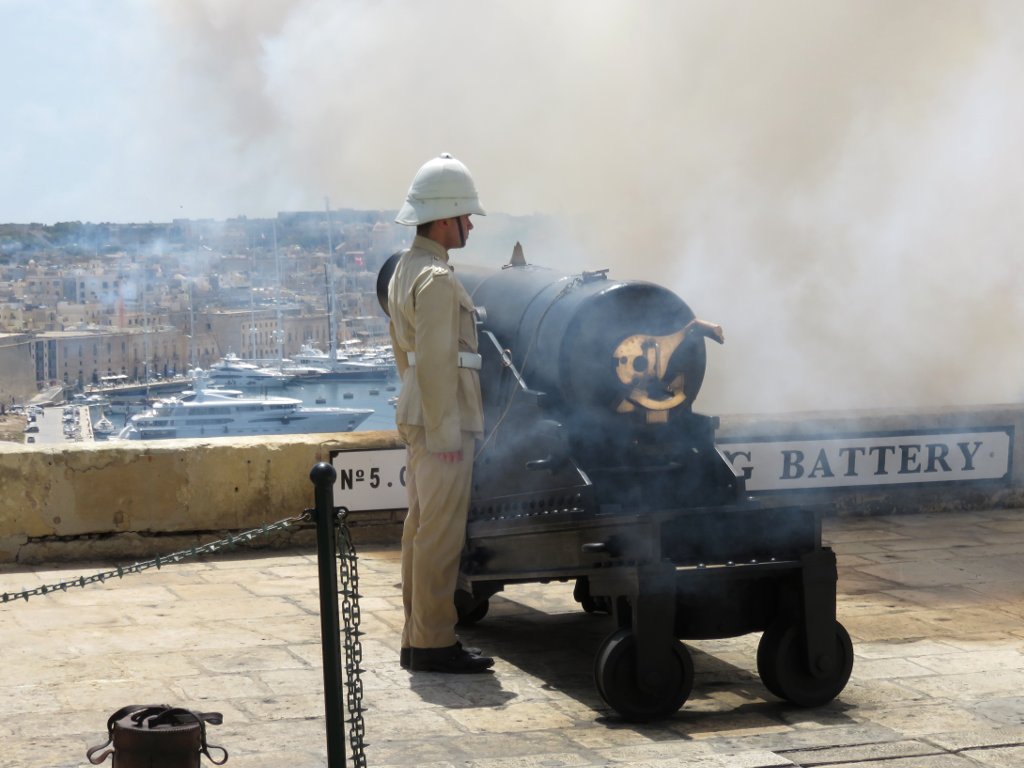 noon gun
Being a small island in the middle of the Med, Malta has a lot of fortifications. This particular fort exists purely to house a very large gun. An Armstrong 100-ton gun, in fact (well, actually 103 tons but that doesn't sound as catchy). It's hard to get a photo that really conveys the size of it, so you'll have to excuse this effort: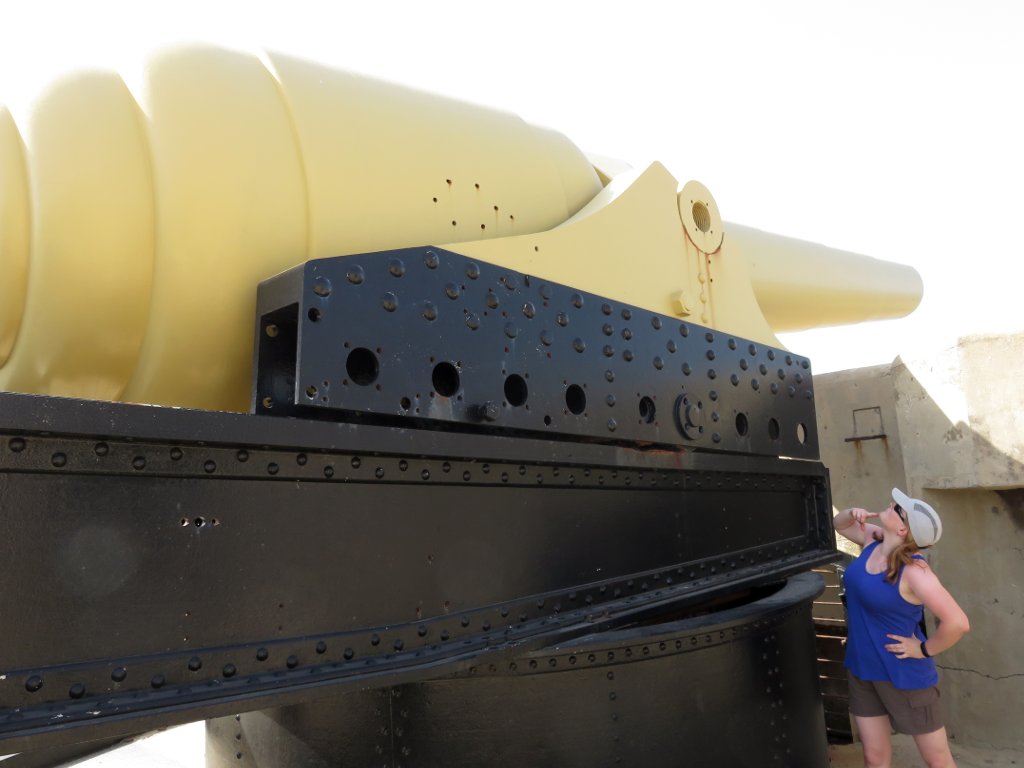 note my skin slowly turning pink...
The staff were all very enthusiastic, and very good at staying in character even when serving lunch in the café. We arrived just in time for a bayonet display, and the main guided tour started at about 2pm. This included a tour of the battery itself, the museum, drill demonstrations, and a musket/rifle demonstration. Jon was very excited to have a go at firing a Martini-Henry rifle. I stood in a shady area instead, as my skin was starting to complain despite the factor 50. Sigh.
I mentioned the fort being a bit out of the way - there is a bus stop right outside, but the timetable was a bit confusing (it didn't actually say if the bus went to Valletta...) so we ended up walking to Kalkara and getting the bus from there.
Dinner was some traditional food at Ta' Kris - Bragioli for Jon, and rabbit pasta for me, accompanied with some very good wine.
Saturday
Headed back to Valletta and visited the rather impressive - despite being under renovation/conservation in some places - Palace State rooms and armoury. The ferry back across to Sliema turned out to be much more pleasant and quicker than getting the bus!
The day's 'main event' was a late afternoon powerboat trip to Comino with oki-ko-ki banis. This was so much fun! Tony has been running the trips for many years, and it was a good mix of music, jokes, laughter and fast boats. Sadly the trip also included fishing a few bits of plastic rubbish out of the sea

I've read about how crowded the Blue Lagoon can get during the day, so it was nice to get there later and only have a few other people/boats around. Also good if you're limited on time, as you still get most of the day to do other things.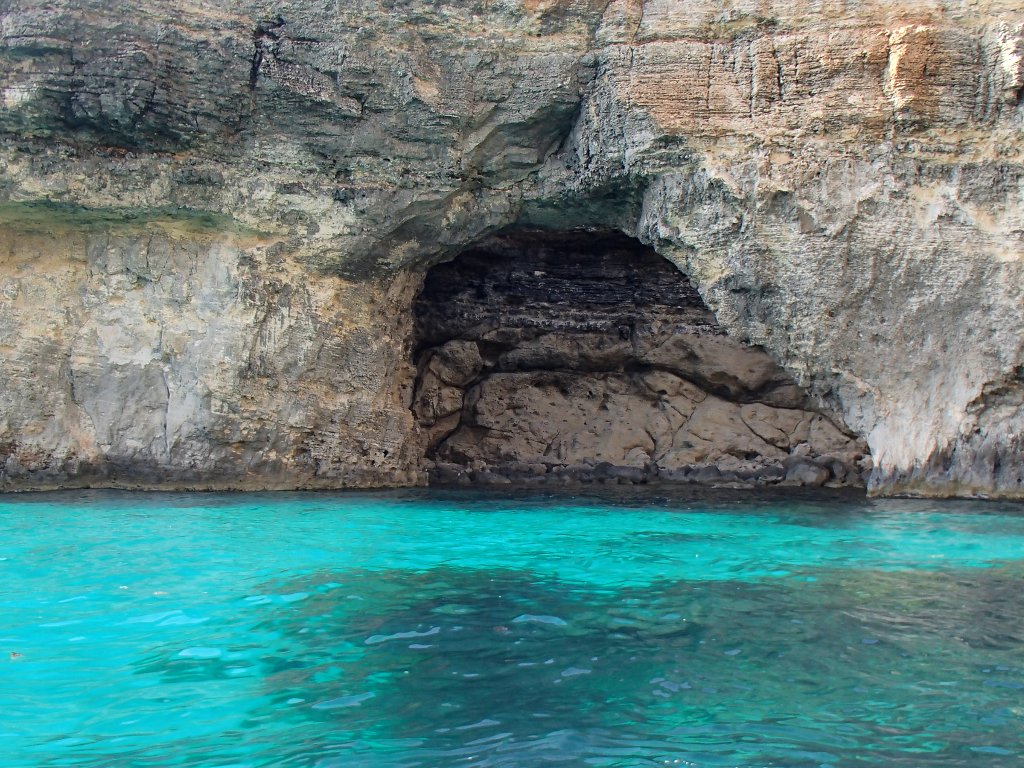 After rushing to get some chips and beers (the kiosks were all closing as we arrived!), we swam around in the blue lagoon then enjoyed a beautiful sunset as the boat headed back to St Julians. Definitely recommend this trip!
Sunday
Our final day, so we went for the slightly more relaxing option of a lie in and a harbour cruise. We saw the noon gun firing again, but from the water. Quite cool. The harbour tour also gives you a better idea of quite how many forts and fortifications there are around Valletta and the Three Cities.
I think the taxi back to the airport was about the only low point - we booked via the hotel for fixed price, and when it arrived it turned out he already had a passenger (or random friend?). However the worst bit was the driver honking his horn at random women. Not cool. Needless to say he did not get a tip...