Last year, I spent Easter weekend up in Scotland. This year, we were more sensible and went for an entire week.
(Yeah, I could/should have posted this weeks ago. But I've been somewhat busy with work, business trips and hours and hours of photo editing...)
Awesome week! Plenty of rivers, mountains, gorgeous scenery, lovely people, drinking, cakes, faff, etc etc.
And one not so lovely stomach bug that went round throughout the week, knocking most of us out for a day. grr
We travelled up on Good Friday, stopping in the Lake District to run the River Kent on the way. Camping on the Friday night, but proper accomodation in Fort William for the rest of the week. And a drying room, which was most handy.
Both Saturdays were spent in Glen Etive, which is now quite high up on my list of beautiful places. The second in glorious sunshine - I'm going to use a photo to show this, rather than a thousand words!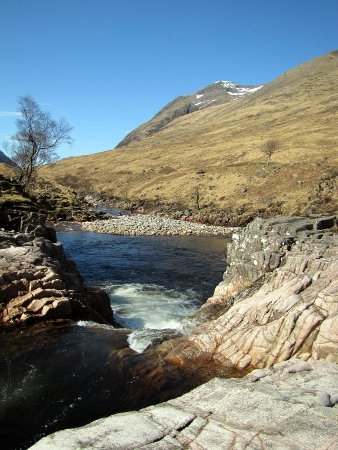 Barely a cloud in the sky, and still some snow on the peaks. Wow.
As ever, I didn't do nearly as much kayaking as I could/should have - and my waterproof camera did more than me! This is fine though, as I also went walking, climbing (at the Ice Factor in Kinlochleven, where I was happily climbing 6As, wooo), read books, took a lot of photos, and generally relaxed

Still a bit too much of this though: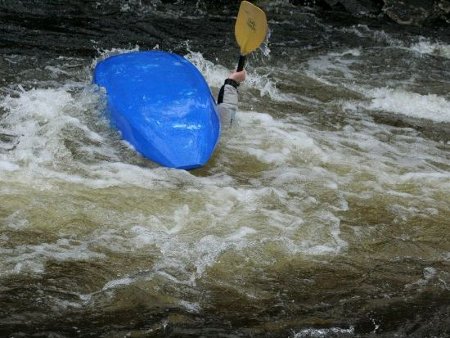 That's me upside down on the Garry, and was shortly followed by a swim. Excuse: my legs were dead and fell out of the boat. yeah...
Other points of note:
I somehow stayed awake the entire journey up
but was quite old-mannish and slept in the evenings when others were socialising...
3 swims, 2 rolls. hmm
also lots of swimming/rolling for people other than me, hah!
my new dry trousers are brilliant
seeing the improvement in people's skills by the end of the week
marbles!
I'm still not that keen on haggis (had a haggis panini, which was interesting)
Wine and me and ovens should not mix. Burn scar on my arm...
swim beers being replaced with swim easter eggs
Bring on next easter. Or, indeed, my next holiday - which is now only a month away...