Our beautiful Bonniedog died at the end of July. She'd been a bit ill for a month or two, but in the end it was all very sudden and a huge shock

This is so difficult to write. I've been coming back to it for a month now, going through all the photos we took of her and maybe adding a few more words before having to stop and cry some more. No amount of words or pictures will provide a fitting eulogy, but here we go:
Bonnie was rescued in Ireland, and made her way over here via the Dogs Trust. She had a couple of failed rehomings before eventually moving in with Jon about 8 years ago, and then I came on the scene a couple of years later.
I'd never lived with a dog before, and it did take some getting used to! Not going to lie, there was a bit of a power struggle at first as she was perhaps reluctant to share Jon's affections, but we soon figured it out.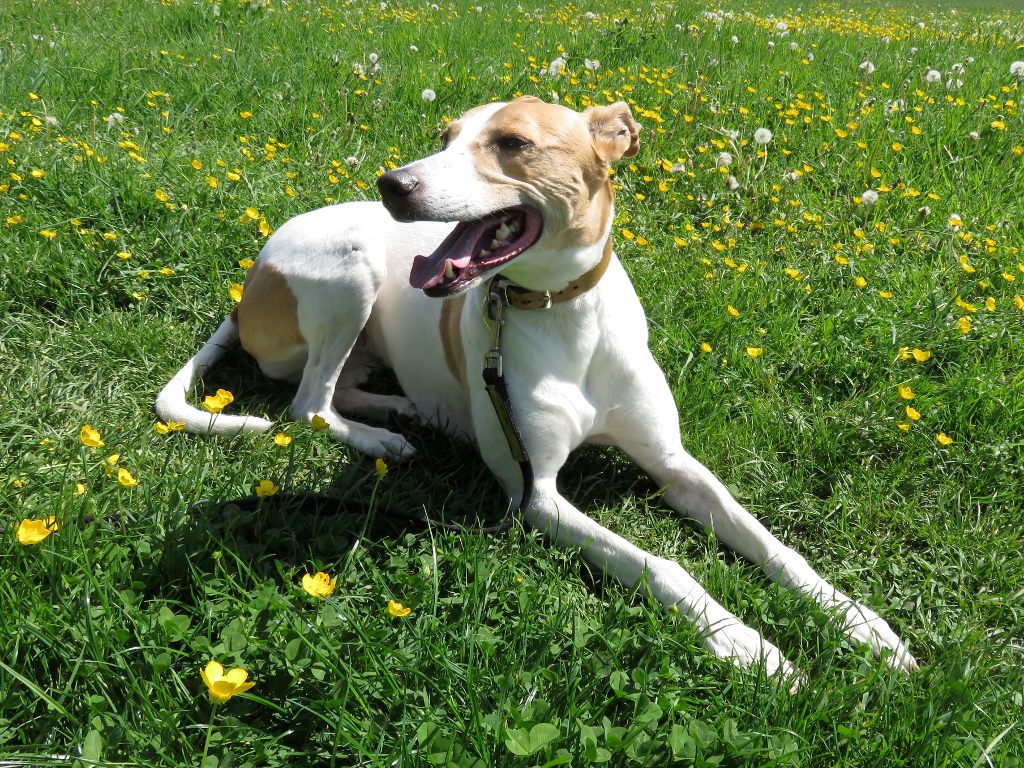 impromptu modelling session
We don't know a lot about her early years, but can guess from her behaviour and reactions that she was most likely used for hunting - probably deer. Prey drive good, recall bad... And, unfortunately, she was a certified cat killer - so almost always wore a lovely pink muzzle when out and about, to keep both her and the local wildlife safe.
She loved walking, pubs, comfy sofas/beds/blankets, picking the fluff off tennis balls, pulling the stuffing out of toys, squeaking when she wasn't getting enough attention, and generally demanding treats and fuss. She did not like being bathed - but also wasn't one for rolling in stinky things so a bath was a very very rare thing.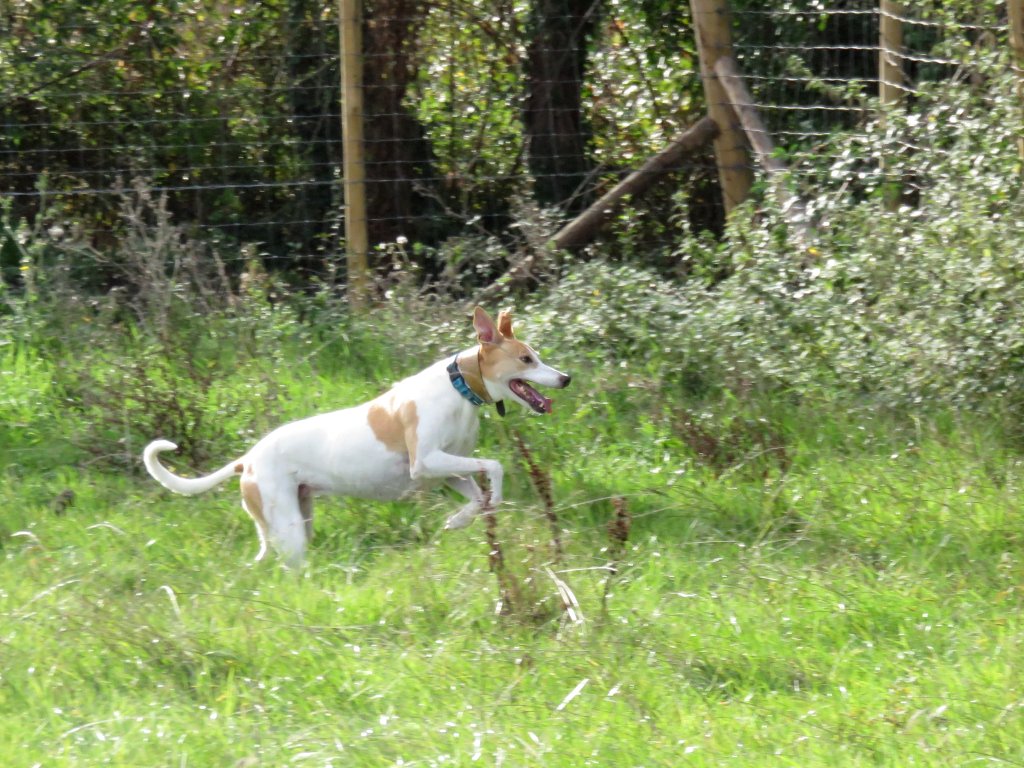 Perimeter patrol at the dog field
Most of all she loved a good snuggle, and was happy to be used as a pillow (and vice versa). She was particularly good at being 'emotional support dog', providing affection if someone was sad or unwell.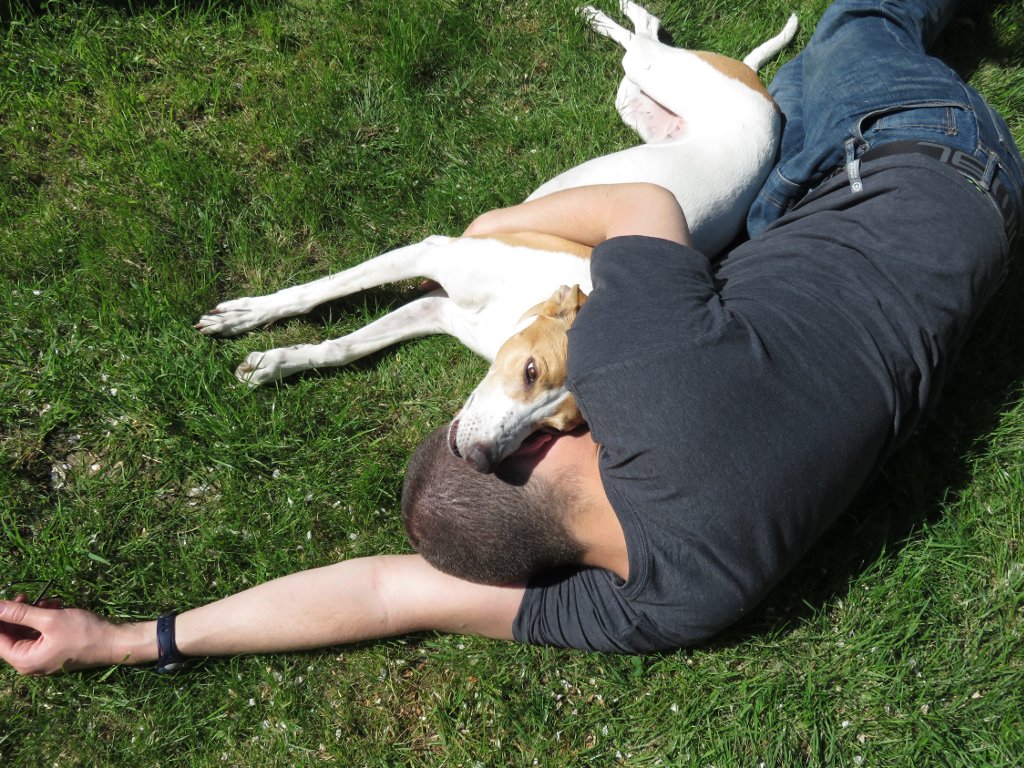 love
When Tilly joined the family she loved having another dog to play with - and helped Tilly get over her separation anxiety as well as teach her a few bad habits.
She had started to slow down over the last year or so and definitely had a bit of arthritis creeping in, but maybe in hindsight we just didn't notice quite how old she was getting. She was probably somewhere between 12 and 14. Honestly, we were expecting (hoping for?) a slow dignified decline.
She'd had a lingering UTI, but bladder and kidney tests showed nothing else wrong. Maybe she'd been hiding other symptoms, but suddenly on a Saturday afternoon she presented with a lot of back pain. Vet's best guess was that the infection could have spread to her spine. Despite more antibiotics and painkillers, sadly she died on the Monday morning. One small solace is that she was at home, on the sofa, surrounded by those who loved her the most rather than on her own at the vets (she was always very dramatic about going to the vets).
It's been so weird since. Tilly is coping really well on her own, but the house is so much quieter with only one dog. Too quiet. Some days it feels like we've adjusted to life without her far too quickly, and other days I still find myself wanting to pick up both bowls to do breakfast.
I really miss that pokey nose. Run free Bonnie, we love you so much.