how many boats is too many boats?
because, er, I seem to have gained a third: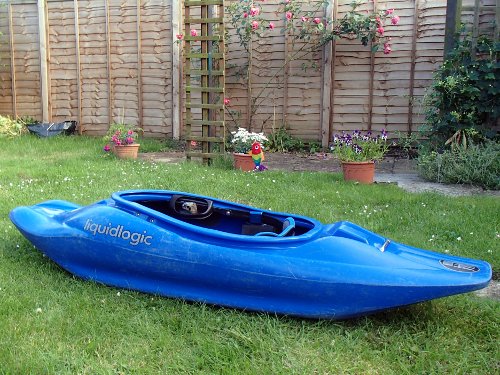 for anyone who doesn't care about boats, you can see some of the pretty flowers in my garden!
The mamba is fantastic on the river, but it turns out rather boring for the lido. So I've acquired a cheap second hand playboat (which took a stupid amount of time to make its way across the country to me, mostly thanks to TNT being a bit rubbish. grr).
It's a Liquid Logic Vision 44, ie the very small size. It's got half the volume of the mamba, and I struggle to fit in it with shoes on. Apparently this is a good thing?!
Maybe I'll actually learn some decent edge control now. Used it once so far, and whilst I'm still failing to master the stern squirt, I am getting quite a bit of rolling practice...