I bought some new walking boots. No more squished toes and worn down soles!
Good excuse for a quick wander up the local highpoint - Robinswood Hill. A mighty 198m above sea level, topped with trig point, some sort of jubilee beacon and another pillar that probably should have a toposcope on it, but in fact just had holes and bits of old glue/cement. Useful.
Anyway, the scenery was fairly obvious - Gloucester (including my house!), the Cotswolds, May Hill, Bredon Hill, some of the Malverns (hiding under a rain cloud), and these: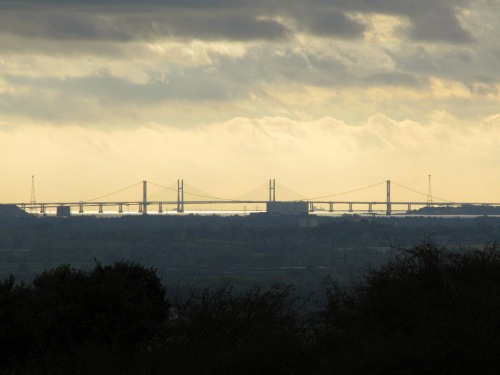 Both Severn bridges, 25 miles away. Wasn't expecting to be able to see them so well on a dull and slightly drizzly day... Must make a mental note to go up again when it's clear and sunny!