This week has been somewhat busy.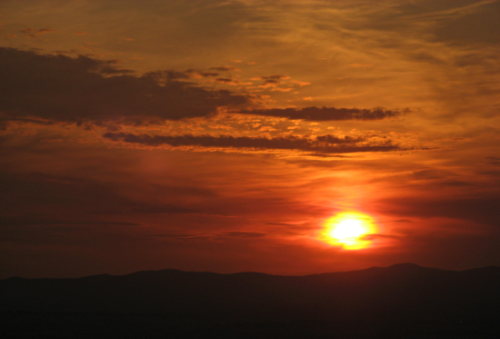 Sunset from the top of Cleeve Hill, taken last Monday evening

Tuesday evening we had an evening session down at Symonds Yat, which is always fun. Much carnage from other groups there with beginners, hehe.
Then on Wednesday, an evening at the races! 'Beer and a Balti' at Chepstow with work - and despite me having no knowledge of (or interest in) horse racing, I returned at a profit! A whole five pounds, won on a horse chosen purely on jockey colours (black with pink stars). Well, I say five pounds, really it was seven but I lost the other two in the next race...
Yesterday afternoon I very cleverly managed to overwrite my live database here with an older backup. D'oh. Luckily I've managed to fix most of the damage, but still. That'll teach me not to just copy and paste between phpmyadmins...
Did get a quick bike ride in today, although not as much as I'd have liked, because after about 20 minutes it started raining. Heavily. Got 20k done in the end, which isn't too bad I suppose.