Wimbledon fortnight usually sees me glued to the television watching as much tennis as possible. This year's has obviously been extra amazing with Andy Murray winning, but what makes it even better is that I actually went!
Getting tickets involves a lot of queueing, money, or luck. I went for the third option - getting a pair of tickets for day 3 on Court 2 in the club ballot (albeit as a 'reserve' when the original person declined the tickets - thanks, whoever you were!)
So me and mum hopped on a train to London and had a fantastic day out.
Day 3 sees the first lot of second round matches - which this year included several big names getting knocked out (including the mighty Federer!), and too many other big names retiring injured, which is always a shame.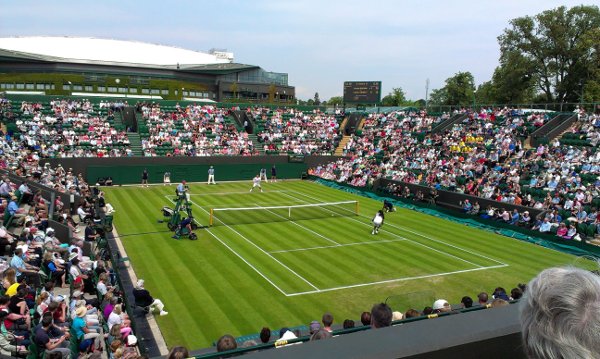 The matches we saw were:
Dustin Brown vs Lleyton Hewitt (6-4 6-4 6-7(3) 6-2)
Petra Cetcovska vs Caroline Wozniacki [9] (6-2 6-2)
Michelle Larcher de Brito vs Maria Sharapova [3] (6-3 6-4)
Kenny De Schepper vs Marin Cilic [10]. Sadly Cilic pulled out injured
instead we got:
Kirsten Flipkens [20] vs Bojana Jovanovski (6-4 6-4)
Our seats were at the south end of the court looking towards Centre Court, so I was keeping up with the Murray score on the scoreboards there, as well as sneakily checking on the Wimbledon android app.
The most popular match was obviously Sharapova. It was probably also the loudest, with both of them squeaking away constantly. Mum commented that she should maybe have bought ear plugs along...
Of course it wouldn't be Wimbledon without the obligatory strawberries & cream and a glass of Pimm's. Expensive Pimm's - £7.50 per glass! In fact, 'expensive' is a good word to describe pretty much everything - the prices in the souvenir shops were completely ridiculous.. I spent £8 on a single keyring, t-shirts were £30+ and if you wanted one of those giant tennis balls that kids get the players to sign it was £18. crazy.
But they do let you take your own food and drink in, which is something I guess.
So happy to see Murray win the final on Sunday though - I was out kayaking so missed the first set, but was expecting him to win in four or five, not straight sets! Definitely not going to complain though