Saturday: sunshine, blue skies, warmth and general springyness. Not a day to be spent cooped up indoors! So I decided to go walkies.
2011's challenge is the River Wye. I paddled a very short stretch of it last month, but 4km out of 215 isn't really much to show a quarter of the way through the year!
So I added another 5.5km of the Wye Valley Walk - from a total of 16km, starting (and ending) at Capler viewpoint (that's in Herefordshire, by the way). Walking anticlockwise around this loop: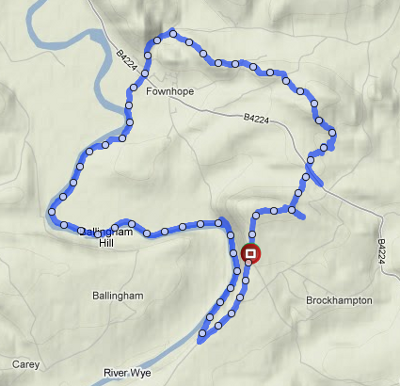 It's sort of tree shaped...
I set off following the Wye Valley Walk up past Capler Camp Hill fort, through some fields, up a small hill and along the ridge through Paget's Wood. Then down to Fownhope, and along the river, eventually rejoining the wvw for the final section.
Keen eyed readers may spot two small 'detours' on the route. The first was when the actual path wasn't at all obvious, so I followed a much wider path through a field for a bit. A random trig point helped me realise my mistake!

Lovely view from Capler Camp Hillfort
The second 'detour' was more annoying - I got to a road, where instincts (and map) suggested I needed to head left. But the only footpath sign I could find (half hidden in a hedge!) pointed right, so I though maybe it was just a little wiggle. Nope.
When the path reached another road just above Fownhope, I left the WVW and headed down into the village and towards the river. Plenty of footpaths on this bit of floodplain - I stuck to one right next to the river bank, and saw swans, ducks and geese as well as the sheep in the fields.
Of course, the downside of parking most of the way up a hill is that the final part of the walk involved walking up said hill with tired legs. But it wasn't too bad.
This was also a first outing for my new hiking rucksack - a Lowe Alpine something or other with 'airflow' back system. Great stuff! No sweaty back, and no warming up of the water in my hydration pouch thing

Save