Christmas in the Three Valleys
I am really not a christmas person. Partly due to the whole atheism thing, but mostly because there's too much hype and expectation and it stresses me out. Bah humbug etc. This time, I avoided it all completely by spending the week playing in the snow in Courchevel.
(Though actually I think that photo was taken somewhere in between VT and Meribel)
The Three Valleys is big - the biggest linked ski resort in the world, with around 600km of piste. That's a lot, and far too much for me to cover in six days. We got area passes but mostly stayed in the Courchevel valley - went all the way to Val Thorens on one day, and to Meribel on two other days. My favourite area for skiing was above Courchevel 1650 - some really lovely and relatively quiet red runs. I also liked the tree lined runs down to La Tania.
The lifts are very sensibly laid out, but I can't say the same for piste signposts! I quite like having signposts/piste name signs at junctions, not slightly afterwards when you've already had to make a decision.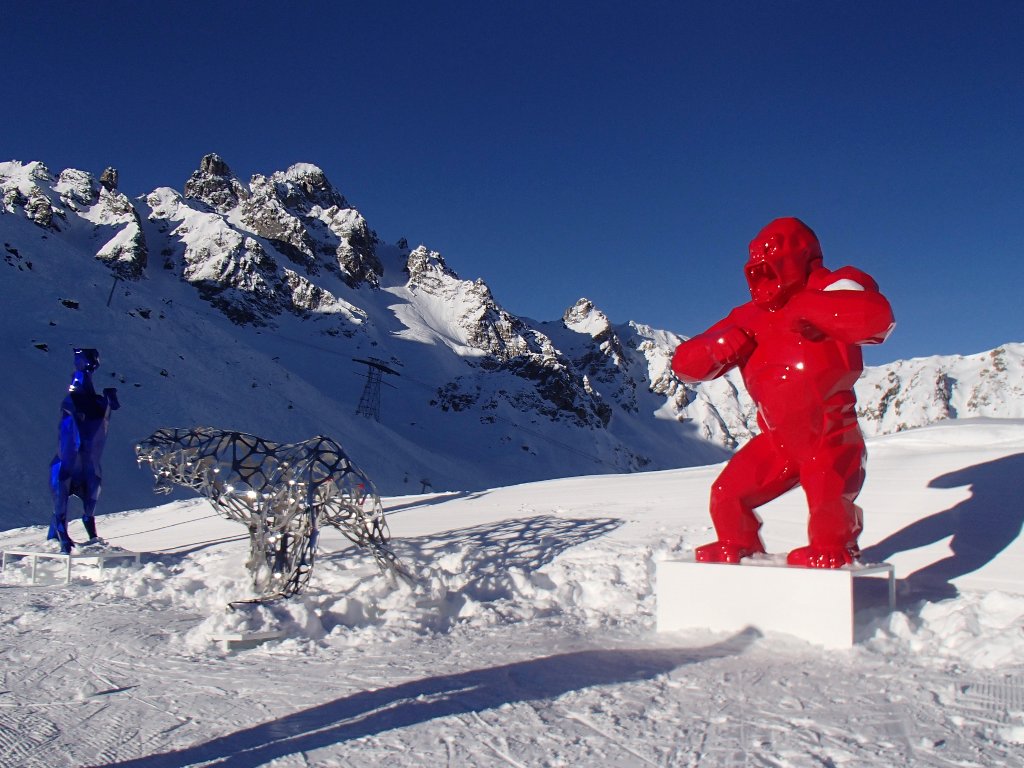 animal sculptures at the top of the Biollay lift
We had plenty of fresh snow during the week, which was lovely if rather cold and cloudy. However they seem to like piste bashing everything to within an inch of its life - very hard (and fast) pistes, even the day after snow.
Courchevel 1850 - the 'main' bit - is also rather posh and expensive - designer shops (with bouncers) next to the lifts, and ski instructors sponsored by luxury yacht insurance companies. Definitely somewhere to check prices before ordering a beer! (€12 for half a litre? no thank you)
We stayed at Chalet Barragiste in Courchevel 1550, which was a fantastic location - you could ski down to the lifts, and ski back at the end of the day as long as you didn't mind going along the luge track! The hot tub was also very good, with views of the mountain and of people crashing their sledges.