On Saturday I took part in the inaugural Great Highnam Court Run - my first proper 10k!
When I signed up back in June, I questioned how I'd ever be able to run that far. Or why I'd entered a race at all when I hadn't even been parkrunning regularly. Main reasons were:
it's local - somewhere I've driven past daily for many years
it wasn't too expensive, and all finishers got a medal
the venue isn't usually open to the public
it'd give me a target to work towards
Also, a little bit of peer pressure. When I told friends I was considering it, Jem immediately went and entered the 10k, and Aisling and Gaz entered the 5k (though unfortunately both of them ended up pulling out with injuries).
I eventually got round to forming a training routine of sorts (ie forcing myself to run twice a week), but it was only a couple of weeks ago that I managed the full distance and it finally felt like the race was 'doable'.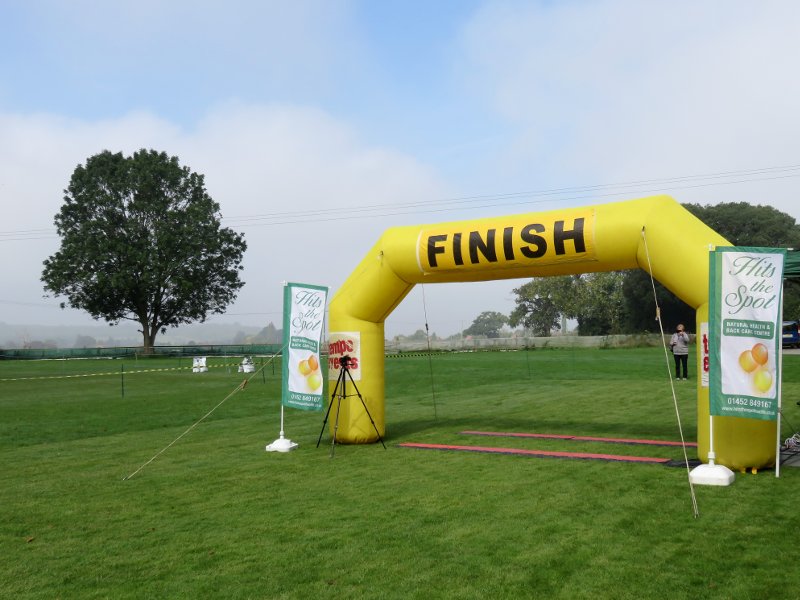 The weather was dry and cool, but also foggy. Perhaps not ideal for taking in the lovely scenery! Local news paparazzi took photos of us pre-run, and I also got this delightful selfie. I'm waiting to see the official photos taken during the run, no doubt I will be pulling stupid faces.
The course was quite varied. Starting at the cricket club/church, we ran two laps of the gardens and grounds, consisting of gravel paths and various lengths of grass. One section along a lake was quite muddy with a few tree roots (and face-height overhanging bits of plant!), and there were a couple of short bits of tarmac. There were 3 water stops, and plenty of friendly marshals.
As the race was finishing, the fog cleared and we had beautiful sunshine for a bit of a wander around the church and grounds. But more on that in another post.
Now, the important bit: my result. I ran just over 1hr and 2 minutes, which I am very pleased with! This put me in 42nd overall (out of 94), and 15th lady.
Of course, it could have gone a little better - I realised my shoe was rubbing (there's a seam/fold in the insole somewhere) at around 7k, and from about 8km the bottoms of my feet started to go a bit tingly/numb. The same thing happened a couple of times during training, so maybe I just need to not tighten my laces so much?
I'm not sure what happens next with my running. I'll probably find another 10k at some point because it'd be a shame to lose all the fitness I've been working on, but at the same time I'm sad that I haven't done a great deal of cycling this summer. hmmm.