"Please purchase free ticket"
Gloucester's park and ride system is confusing.
For starters, they've decided against having something simple like a single payment for both parking and riding (which I thought was the point of park-and-ride?). Instead you pay parking, and then pay bus fare. hmm.
Anyway, even that's not so straightforward: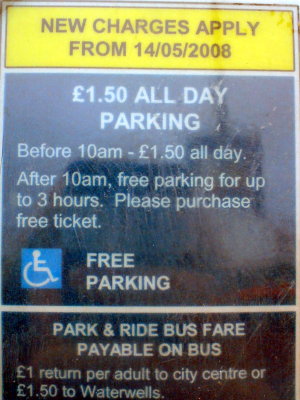 How exactly do you purchase a free ticket? All the machine would let me do was put money in and buy an all day ticket, despite it being 14:00 and therefore very much after 10. grr. Probably would have been cheaper just to park in a normal car park in the city centre.
So what was I doing in Gloucester, I hear no-one ask? Going round lettings agences picking up details of houses/flats. 'Cos I've got a job there and need to move house yet again

In other car related news, motorway driving (more specifically, middle lane rage) has been much improved since discovering this. Friday on the M5 I managed 8 and a half circuits around some idiot in a fiesta. hah! Previous best, about 4. If I hadn't reached the M50 junction and had to turn off it would have easily been more.