It's been one of those rare weekends where I haven't had anything planned to do. So as it was reasonable weather yesterday, I thought I'd go for a nice bike ride.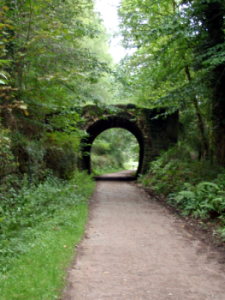 Bit bored of the towpath close to home now (obviously it's rather flat, and generally has lots of people walking along it to avoid/scare the crap out of), so I thought I'd take the bike into the Forest and do something a bit more interesting

First step - a trip to Halfords to buy a bike carrier for my car - something I've been meaning to do for the last month or so... Then the best part of an hour (!!!) assembling it and attaching it to the car. No idea how it took that long, but wasn't helped by the instructions being utterly awful.
So, eventually I got to the car parky place (the 'pedalabikeaway' cycle centre) and took the bike off the car to discover a total lack of air in the back tyre. Fantastic

I had been intending to do the 17km 'family' trail, perhaps cutting it short and then doing something more challenging afterwards.
In reality I got about 3k in, got fed up of pumping the tyre up, so turned round and limped back

Wasn't going to let that stop me though, although I did briefly consider giving up and walking the sculpture trail instead... but no, conveniently placed bike shop meant one new puncture free inner tube. Sorted

So then I found something a bit muddy, and managed a total of 15k - so not too bad. And a lovely squiggly gps trace of the whole afternoon's efforts!
Apart from all that, I've finally finished sorting out photos from last weekend. August Bank Holiday weekend in North Wales, so pretty much guaranteed to be rainy! Not so bad on the Saturday when we were on the Tryweryn (although very cold on the water), but Sunday and Monday morning was just that annoying drizzle that you hardly notice but gets everything soaked. Interspersed with heavier downpours. Lovely! (and predictably lovely blue sky when we got home)
Nice to do a bit of proper walking though - been a while since I've done any. Alongside the Llugwy from Betws to Swallow Falls and the ugly house (and back), then on Monday a quick walk to see the Fairy Glen (on the Conwy, for anyone keeping track of how many rivers I can stick my feet in over one weekend). My gps trace went a bit mad for the second one though, hmm.