It's my birthday. Again.
What better excuse for baking myself a deliciously yummy cake?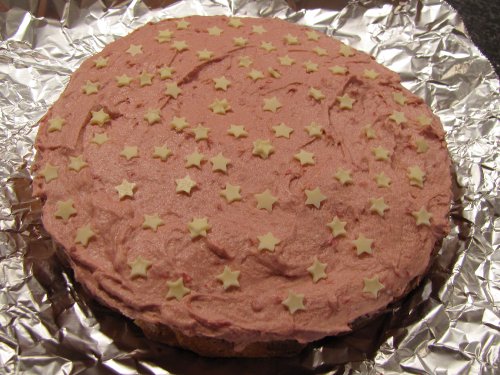 It's a raspberry, almond and white chocolate cake, iced with raspberry buttercream (ie normal buttercream with raspberries mushed in) and white chocolate stars

Yes, I do rather like raspberries.
I threw chocolate chips in rather than bothering to melt the chocolate like the recipe said, but obviously it still worked. The raspberries sank more than I thought they would (picture of the actual cake here), leaving the bottom very sticky, so I ended up flipping it over to ice.
And oh wow was it tasty! My work colleagues demolished most of it, but I've saved a couple of pieces for myself/parents. Yum yum.
To make up for pigging out on cake, I've been climbing this evening. Hurrah.