It's been several years since I last went mountain biking at Afan, which is a bit silly because when I do go I really enjoy it.
Yesterday morning I met up with some friends at a rather damp Glyncorrwg. As we got ready, I watched a serious of brightly coloured dots slowly weaving their way up the hillside, and soon it was our turn. Climbs at Afan are an absolute pig, but at least all the up is at the start so you get it out of the way! No shame in having to get off and push, either...
Once we eventually reached the top, the group split into two - the 'fast and fit' people sped off to do Blade, while the slow/unfit/haven't-cycled-for-years people did the shorter Whites Level. Obviously I was in the second group - and unusually for me, this time I wasn't the slow one at the back who everyone else has to wait for!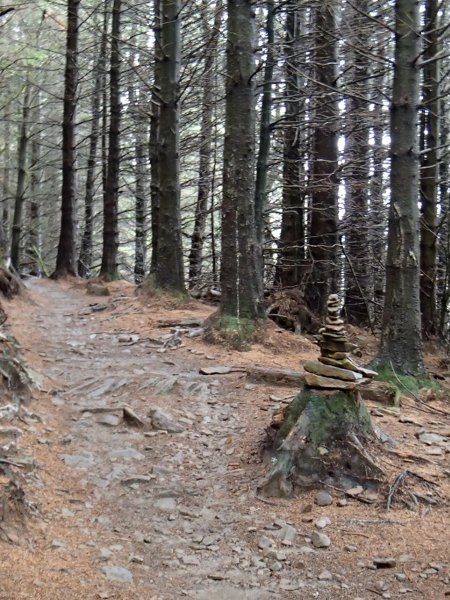 bit blurry, sorry!
The main 'problem' I have with mountain biking is steep downhill. It's mostly a mental block, and is improving with practice, but I don't like feeling I'm going too fast and might not be in control, and have a bad habit of over using the brakes.
None of that yesterday - the descent was a fairly gentle gradient, so felt controlled and everything flowed nicely. In fact, the whole thing was 'flowy' - Whites has a lot of very nice singletrack! Unfortunately one section was closed for maintenance and diverted via fire road, but there was more than enough to keep me happy. Some bits are quite technical though - rocky steps to drop off (walked most of them) and a section of boardwalk which I started doing then chickened out of.
Oh, and the weather eventually improved:
I did have one unintentional dismount - and ended up lying next to a bit of tree in the middle of a load of brambles. Arms and legs are a little bit scratched, but no other damage. Ouch.
Once we'd finished biking (and the sun had properly come out) we headed to Neath for a very nice curry at Mint Masala. Definitely recommended!