This winter, I seem to have mostly been skiing. Eighteen days on the snow! That's a week in Les Deux Alpes in December, La Plagne in February, and finally Serre Chevalier in March. Good thing I got a large payrise when I changed jobs last summer...
For once our resort choice wasn't just down to "found a cheap late deal to somewhere with enough snow". I've been to the area in summer (kayaking, three times), it gets good reviews as a reasonably quiet resort with a high treeline, and Briancon is the sort of place that might be nice to live in for a bit if we ever figure out the logistics. Oh, plus they'd had a big dump of the white stuff the week before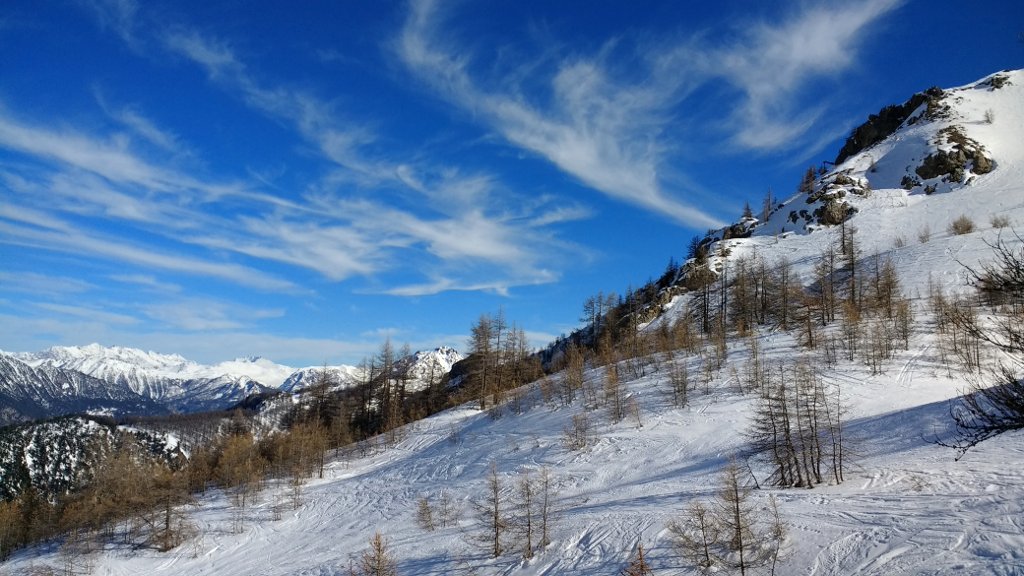 pretty clouds
We stayed in Villeneuve, with Pinewood chalets. I would definitely recommend checking them out if you fancy a holiday in Serre Che (winter or summer), because we had such a good week

OK so the building is an ugly concrete box, the dining room ceiling is bright orange and you don't get the luxury of a hot tub or sauna - but you do get a very warm welcome, good food, and entertainment at a very affordable price. We were about a 10-15 minute walk from the lifts, or a 2 minute walk to the shuttle bus. Which - for added novelty value - is actually a little road train. Choo choo!
I knew from past experience that March skiing would most likely be nice and sunny, but it turned out to be a lot warmer than I'd expected. The runs down to the towns were rather slushy and everything was getting quite chopped up by mid afternoon, especially the green and blue runs. Reds and blacks seemed to hold up better, being less well used. Suffice to say I've had a lot more practise at moguls... It's very much a love/hate relationship at this point.
Serre Chevalier lived up to its reputation of being quiet. Obviously weren't there at peak season, but even so there were very few queues for lifts - and we lasted until Friday lunchtime before coming across someone skiing around with music blaring from their backpack (why do people do this?!)
There are quite a few old slow lifts (including the two seater Cibout lift, which is a bit of a shame because the runs off it are lovely), and also several steep long drags which we decided to avoid. I'm sure I'd have survived on my skis, but Jon was not keen with his snowboard.
Speaking of which...
Snowboard taster session
I spent two hours of my Tuesday afternoon trying to learn to snowboard. There's no proper photographic evidence so you'll have to take my word when I say it didn't exactly go well, especially to start with! Once I'd got over the whole "this is the most unnatural feeling ever" thing it did get slightly better. By... continue reading »

No Comments