Things to do on a dull Sunday afternoon, having already wimped out of going kayaking on grounds of there being massive amounts of water in the rivers (and wanting a lie in) - take the bike out for a first ride of the year! (yes, I realise it's February, shush)
A small consultation with CycleStreets later, I decided to head for Hartpury. 5 and a half miles of NCN 45, conveniently avoiding any main roads.
Half a mile in I realised a slight flaw in my 'relaxed Sunday afternoon' plan. Strong, gusty and quite annoying winds. But turning back and giving up because of weather would be lame, so I kept going. Also Hartpury is higher up than Gloucester. I dislike cycling up massive hills (might have got off and pushed a few times). But nevermind.. the way back would be downhill, so better for tired legs. hoorah!
Arrived in Hartpury and sat on a bench to eat chocolate and get my breath back. What to do now? What actually is there in Hartpury anyway? Other than the college...? Then I remembered having previously seen touristy road signs to "Hartpury Bee Shelter". How exciting/unusual, that'll do..
Three small points to note here:
the bee shelter is in a churchyard
said churchyard is not in the middle of the village.. it's another nearly 2 miles away
bee shelters aren't really that interesting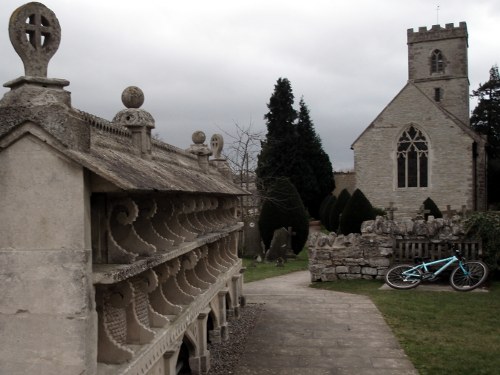 Each alcove (called a 'bee bole', apparently) would contain a straw 'skep' (close up here) with bees etc inside it. No bees there now, of course.
Still, it was a nice addition to my ride! By the time I got home it was twenty past 5, getting dark and threatening to rain. Oh, and still really very windy. Total distance: just under 15 miles (with max speed of 43kmph down a big hill on the way home, wheeeeeeeeee)