Yes, I have stepped onto the housing ladder at last! No more renting - I'm now living in a 2 bed house of my very own

(well ok, mostly the bank's)
The previous occupant was a smoker, so you can imagine how nice the decor was. Very definitely "Fagnolia" - yuck. All the woodwork/radiators were also painted cream (with added stains) which wasn't helping anything.
My parents have been absolutely amazing helping out with all the DIY, cleaning, etc. Big thanks to them, although I think they've enjoyed it too.
I had vague plans to take lots of before, during, and after photos - but mostly that didn't happen. Plus everything is still a semi-unpacked mess...
A brief summary of what we've done:
painted ceilings, walls, woodwork, myself
replaced two rusty radiators
replaced light fittings
ripped up a manky carpet (only to find a second, even worse one underneath!)
moved laminate flooring from main bedroom to second bedroom
new carpet in main bedroom
sanded and repainted front door
changed the locks
hacked at the jungle that was the back lawn, and discovered several stepping stones
Still plenty to be done, including repainting the kitchen and dealing with the hall and stairs (as yet untouched, and in desperate need of new non-stinky carpet)
As for cleanliness....well... Here's the oven, before and after mum attacked it with a lot of nasty chemicals and elbow grease: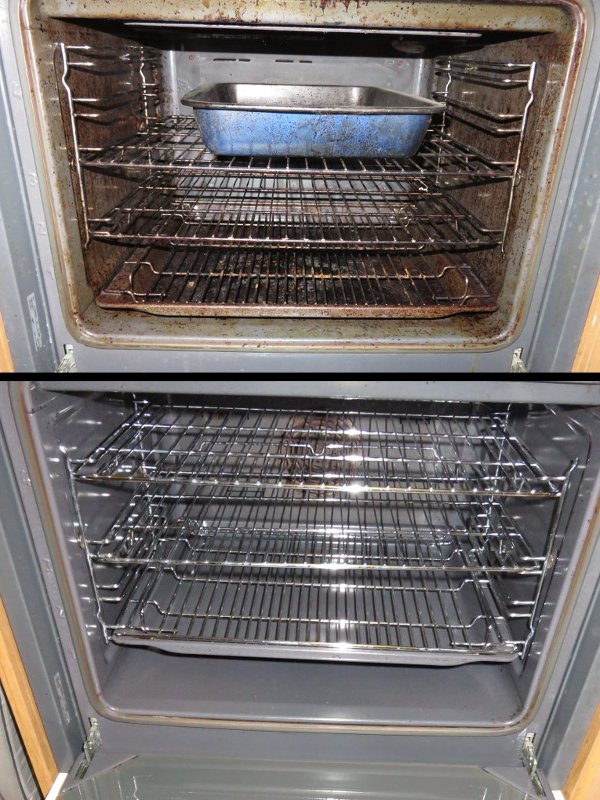 What a difference!