Picture the scene - you're at Birmingham airport at a relatively sensible time in the morning, standing in a queue for 75 minutes for bag drop, because a certain airline who we will call SneezyWet have only got 2 check-in desks open, and one of those people keeps wandering off.
End result: despite arriving at the airport in plenty of time, there's barely time to grab a sandwich, let a lone have a pre-flight beer, before it's time to board. Oh, and then the plane gets delayed for an hour while you're sat on it, leaving you dangerously close to missing the transfer at the other end. Grr.
A week later, you're in a Geneva airport, having arrived massively early because that's how the transfer has worked out. You watch birds flying around indoors while drinking an expensive cup of tea waiting for bag drop to open. There are about a million desks open, so the wait is only ten minutes, leaving you with plenty of time for (expensive) sandwiches and drinks after breezing though security. Oh, and then the flight is delayed, but at least you're still in the terminal at this point...
What's far more exciting, of course, is the holiday in between - my fifth week of skiing! I'm going to give up saying things like "I want to go somewhere other than France" because we ended up going to La Plagne again.
We stayed with Alpoholics in La Plagne 1800 - just up the road from the chalet we stayed in last year. The chalet was well kitted out - sauna, hot tub, cinema room - and a professional chef to provide us with really good food.
The week started with two days of heavy snow, then two days of light snow, and two days of sunshine. Lots of lovely powder. I had a private lesson near the start of the week which massively helped with finally getting rid of the large hint of snowplough from my turns. Yay, progress! That said, I really didn't like it when I (deliberately) ended up in some off piste powder. More learning required.
Compare these two images taken waiting for the Vanoise Express over to Les Arcs - the first from the Monday, the second from the Thursday.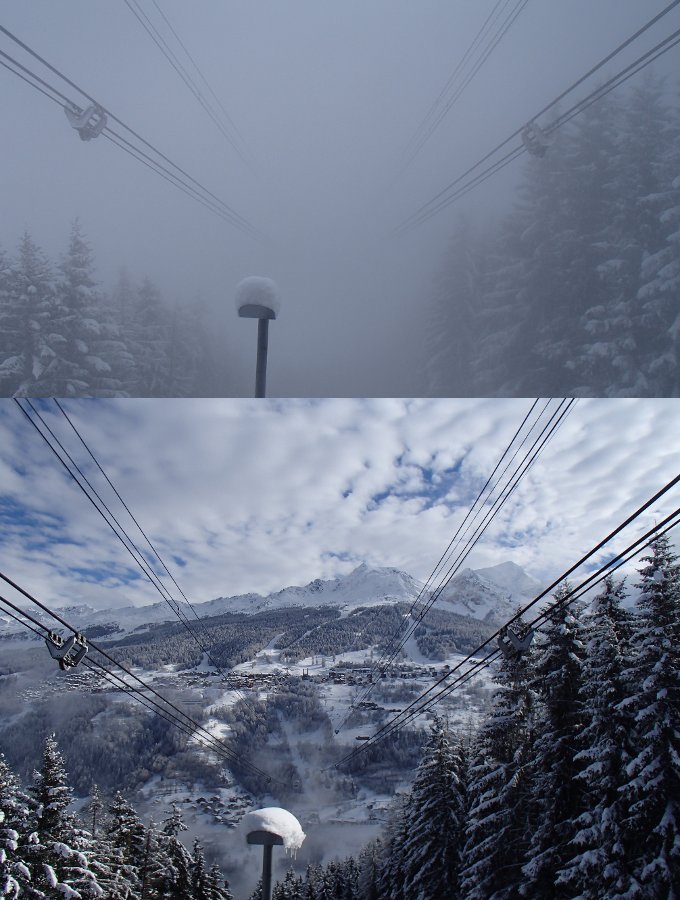 Sunshine makes such a difference
Our two trips over to Les Arcs means I covered more pistes there this time than in my whole week of learning to ski there.
I think my favourite runs were probably on the Champagny side of La Plagne, and also the two red runs under the La Roche lift. It helps that the latter were really quiet the first time we did them (at about lunchtime)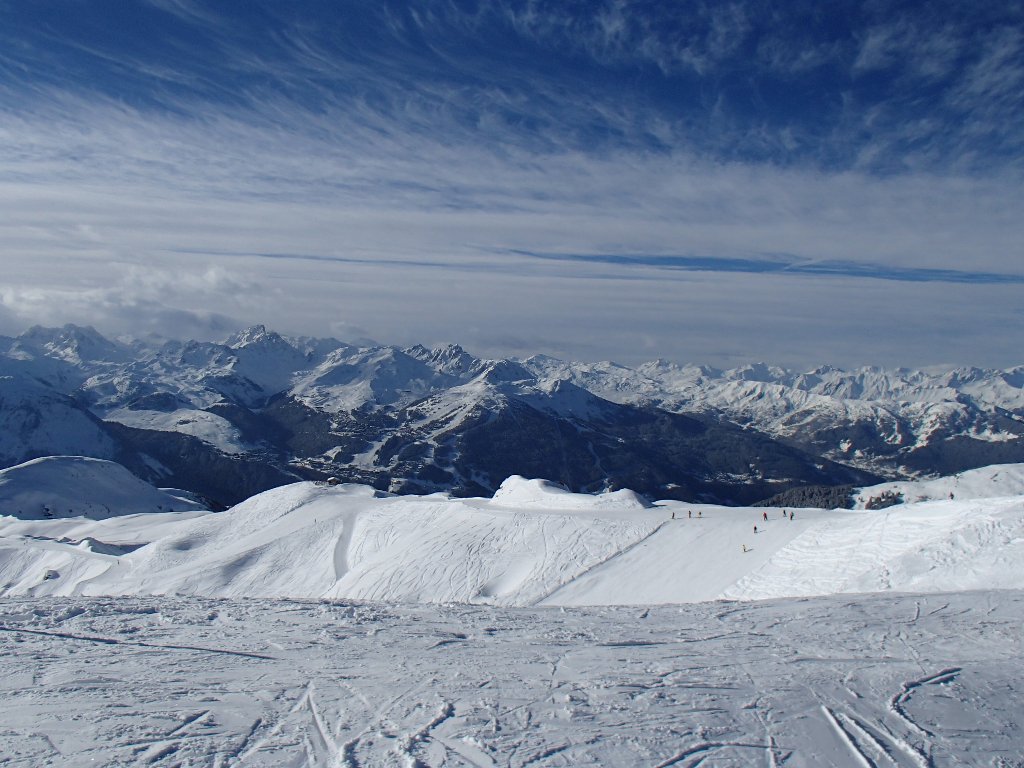 As many resorts do now, Paradiski has a smartphone app - called Yuge - which gives you real time info on lifts, pistes, and queues and lets you track your skiing (including tracking lifts via your liftpass number) I didn't use it at all last year, and I only really used it for checking lift status this time - because the tracking is absolutely shit. I tracked my 2hr ski lesson and it was so patchy that I stuck with strava for the rest of the week. It also won't let me export any sort of data from the app - the option's there, but I just get a blank file.