outdoorbloggers in Snowdonia
Last week I attended the Outdoor Bloggers weekend in Snowdonia. It's been a while since I met (in real life) any random people from the internet, and I've never really done any sort of networking so wasn't quite sure what to expect.
Despite an afternoon off work and good intentions, I arrived in the dark. Good thing my tent only takes a few seconds to put up! We were camping at Llyn Gwynant, which rather conveniently features a pizza shop on busier weekends. Yum yum!
We sat around the campfire telling stories and getting to know each other a bit - though I realised I wasn't really going to find out what people looked like until the next day.
Saturday morning brought rain. Not what I wanted to wake up to knowing that we'd be in the mountains all day, but this is why waterproof clothes were invented! My only previous walk up Snowdon (in 1997, with the scouts) is possibly one of the wettest walks I can remember so I was not so secretly hoping for better conditions this time.
Our guides from Climb Snowdon arrived and we piled into cars to head for our walk start point - Rhyd Ddu (which translates as 'black ford'). They'd chosen one of the quieter routes, past an old quarry and up the South Ridge, then returning via the Rhyd Ddu path.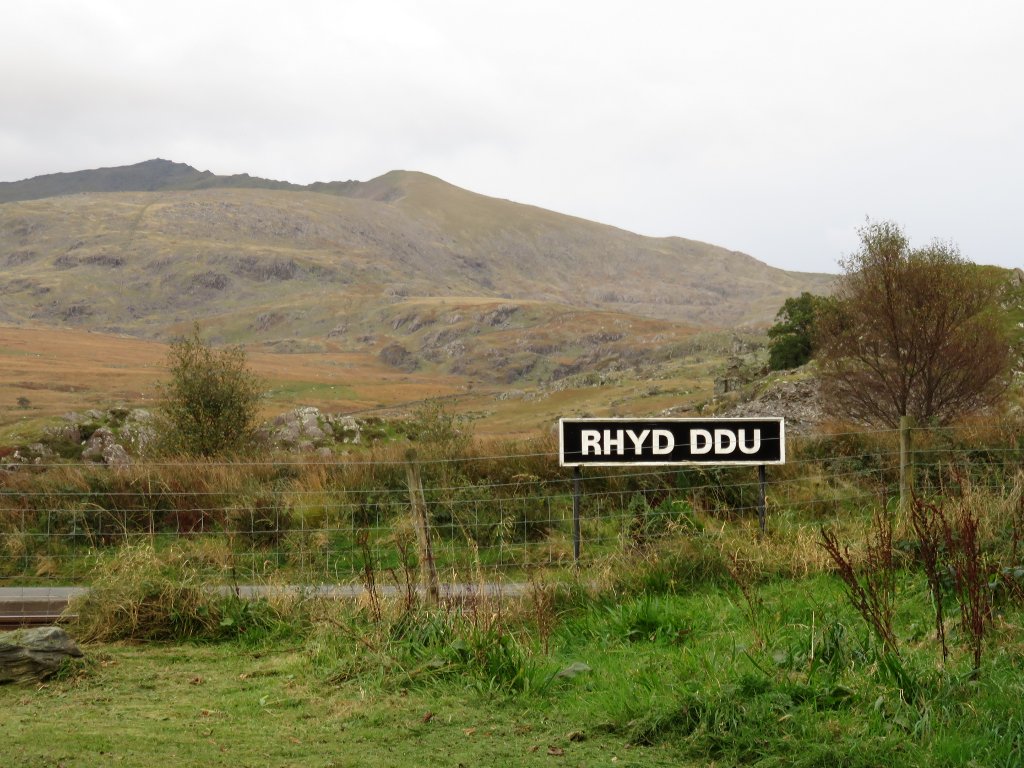 As we walked through huge amounts of waste slate, the rain eased off and waterproof trousers were removed. Happy days. I love the sound slate makes when you walk over it.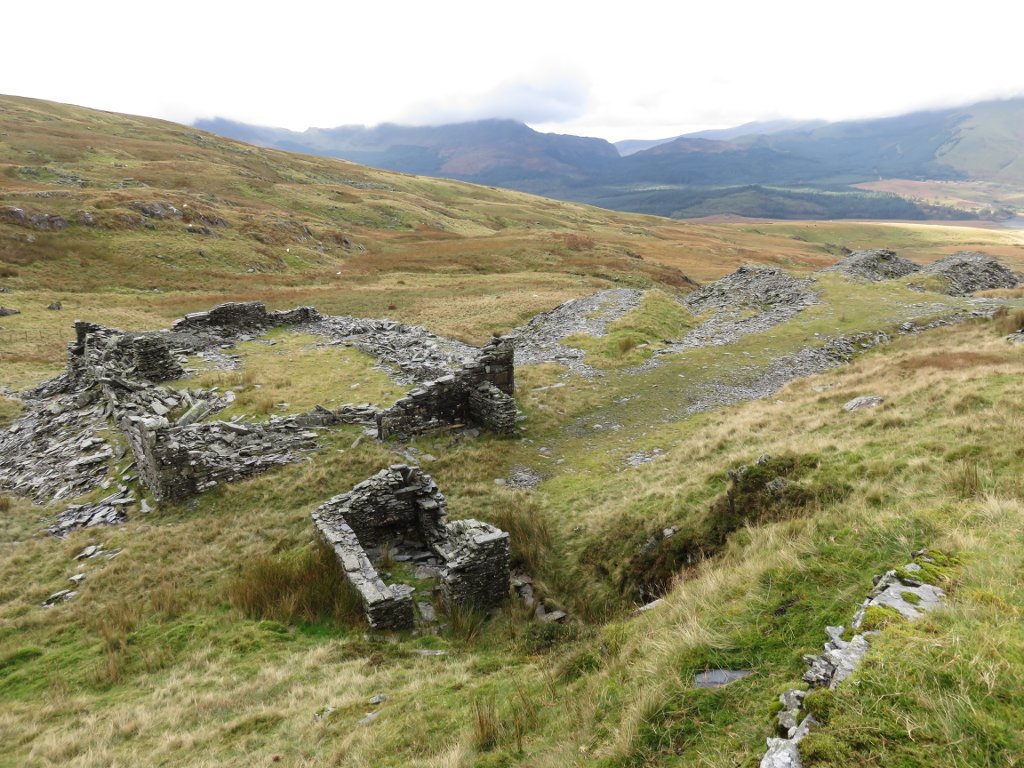 I then got far too excited when little patches of blue sky started to appear. We had wonderful views as we walked/scrambled our way up, including a peek at the summit itself, the train, and the crowds heading up the Llanberis path.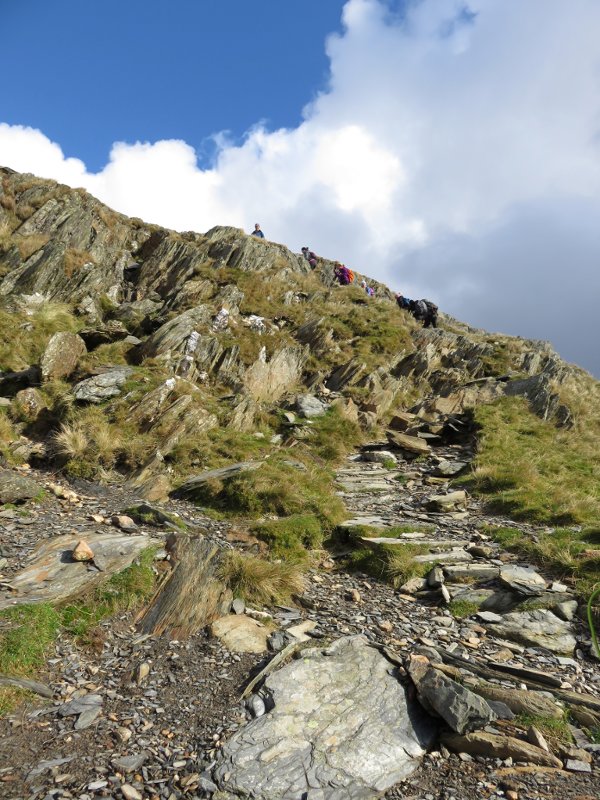 Unfortunately (predictably?) as we got closer to the top the cloud reappeared around us. If we'd been half an hour earlier we might have got the view, but nevermind.
There was a queue for the trig point, which isn't something I've had to deal with before. But I obviously wasn't going to get that close and not take a photo with it.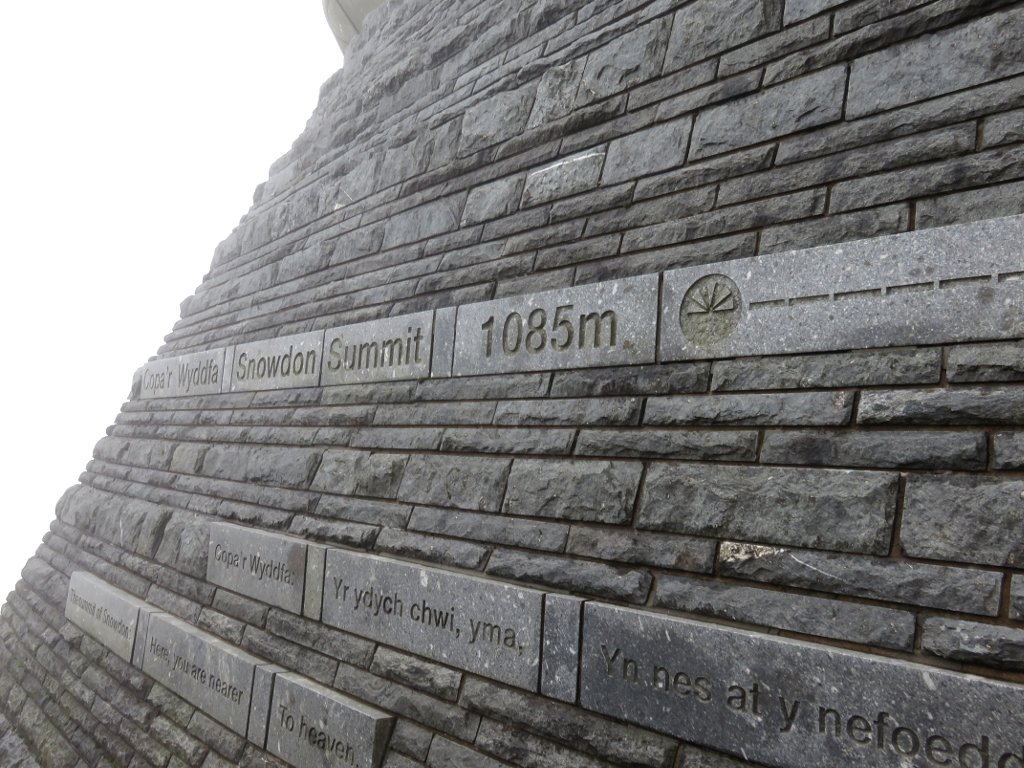 As we walked, Ross and Craig were full of information for us. I hadn't been on a properly guided walk before, so this was a bit of a new experience. They pointed out what mountains/lakes we were looking at, told us the history of the area (including some myths and legends), and pointed out where certain plants grow. Juniper, gorse, heather... also known as some of the "botanicals" that go into gin.
When got back to the campsite Chris from Snowdonia Distillery was waiting with generous samples of both gins they make. Some of the ingredients are foraged from the mountains, giving it a proper local touch. I'm not a huge gin connoisseur, but they were smooth and delicious - I may have to invest in a bottle of yellow label at some point.
The original plan for Sunday morning had been to start with a bit of trail running. However, it was raining (again) and the person due to organise the run couldn't make it. I don't think anyone was particularly enthusiastic about the idea anyway, as legs had started to ache...
Once again though the weather improved. Time for some paddling

I'd taken my kayak with me, but others hired boats from the campsite. We spent an hour floating about on the river next to the campsite and on the lake (though not so much, because it was quite windy).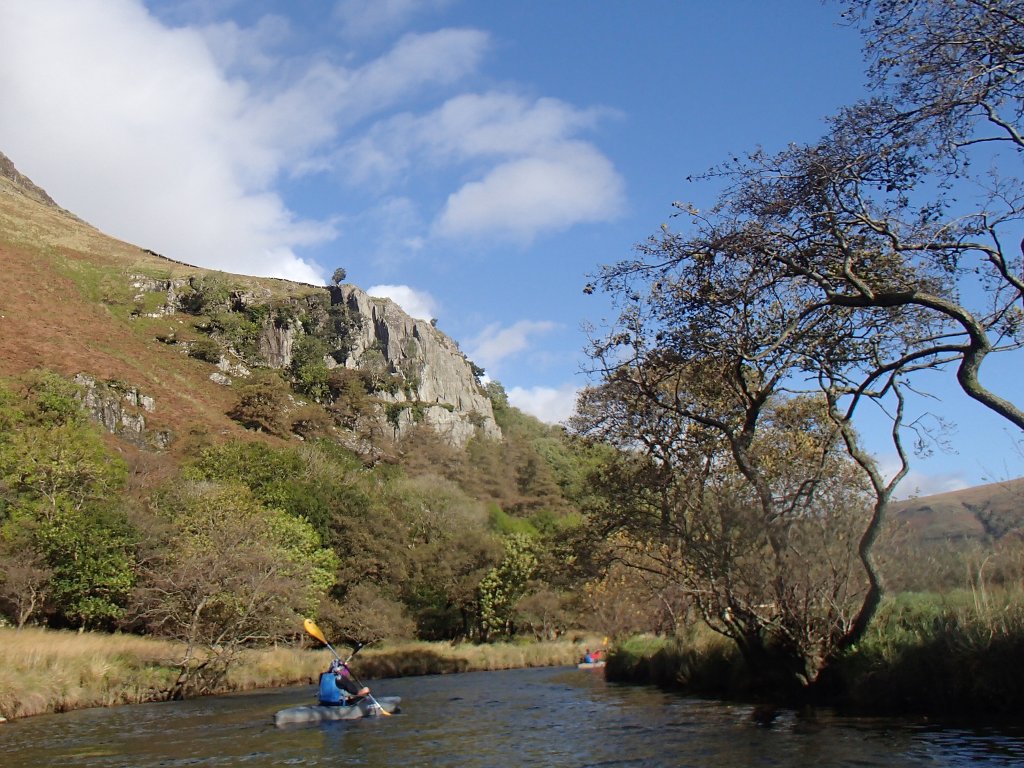 After that, tents were packed up and it was time to head home. I made my now traditional stop in Betws y Coed for a sandwich and some welshcakes.
I really enjoyed the weekend, and it was lovely to meet similar minded people. I was a little nervous that everyone would be talking lots about blogging and SEO and marketing etc etc, but that wasn't the case. And no-one was bothered by a complete lack of phone signal or wifi (fun fact: if you want 4G in Snowdonia, walk about 2/3 of the way up Snowdon...). Sign me up for next year!
I should note that our camping was sponsored by Mud and Routes, and our guiding and gin tasting were provided free of charge. I also received a goody bag of freebies.