Despite now being an old and wise (hah) postgrad who really should know better, I've been round the freshers fair today. Four carrier bags of junk later, this is what my bedroom floor now looks like: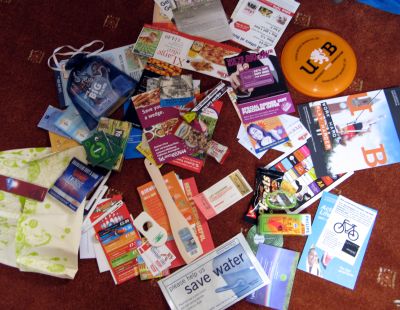 Pretty much all of the paper/fliers are going straight in the recycling 'cos they're all crap. There are some coupons and stuff, but apart from that I also have...
one frisbee
fifteen teabags
a spatula
one bottle opener
three pens
energy saving lightbulb

magnetic words. Now adorning our fridge - will be interesting to see if anyone takes offence and removes them for looking messy. The communal areas in this house don't look anywhere near 'lived in' enough yet....
Could probably have done better if I'd have actually bothered putting my name down for all the random prize draws and whatnot, but seeing as I'm not particularly arsed with any kind of clubbing or gym membership that seemed like a waste of time, heh. Might pop in again tomorrow though, see if there's anything different going on...
More importantly, I also now have my student ID, complete with hideous photo. hooray!