Top comment from friends/family on hearing we went to Barcelona: "Did you get pickpocketed?"
No!
And now that we've got that important question out of the way, here's a vague summary of what did happen:
Sagrada Familia and other Gaudí stuff
I've seen plenty of photos of the exterior of the Sagrada Familia, and yet I was still surprised that it managed to be even uglier in real life. The nativity facade features carvings on top of carvings on top of carvings. I believe this side was 'finished' before Gaudí got squashed by a tram, but I can't help wondering how much more, well, more it might have been if he'd lived longer.
The passion facade is a lot less bonkers (and certainly has nowhere near as much carved shit), but still not exactly nice to look at - it's very stark and pointy and looks really mean.
The inside, on the other hand... wow. It's so colourful! And not much in-your-face religious imagery, which is a very refreshing change from all the other Spanish cathedrals I've visited.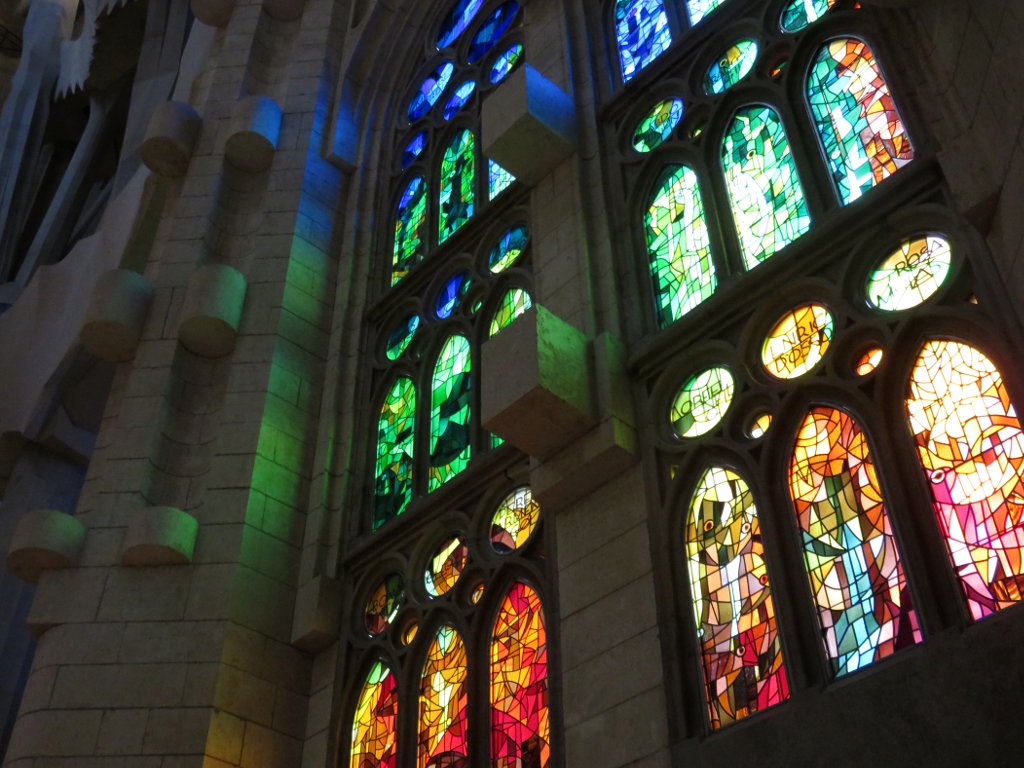 mmm rainbowy
One side's windows are predominately reds and yellows, while the opposite is blues and greens. With the light shining through it's pretty much one big glowing abstract rainbow. I like rainbows.
[Bonus points go to Jon for somehow putting his phone camera in black and white mode while taking photos of the stained glass!]
We went for a tower tour of the nativity facade, which involved a lot of stairs, general confusion of which way you're supposed to go, and some close ups of the (ugly) 'bowls of fruit' at the top of some of the (many) towers.
There are plenty of other Gaudí designed buildings in Barcelona that we didn't bother visiting, but we did cough up €10 to go around the monument zone in Park Güell. You do get a nice view over the city, but although it was exactly what I was expecting, I generally found it a bit underwhelming.
A large case of "pots and kettles" here, but there were soooo many people just taking photos - my favourite being a lady who was very visibly tutting and rolling her eyes whenever someone dared to walk in the background of "her" personal instagram photoshoot. Sorry, but that's what happens when you decide to pose on a busy footpath at a popular tourist site!!

No Comments